MEXT minister visits CDB




January 20, 2004 – Takeo Kawamura, the recently appointed head of the Ministry of Education, Culture, Sports, Science and Technology (MEXT), visited the RIKEN CDB on January 17 for an introduction to the Center's research objectives and current activities. MEXT is the primary source of funding for RIKEN, Japan's largest government-supported basic research organization.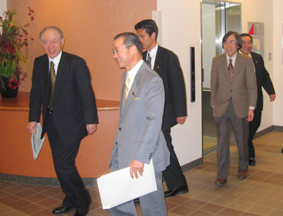 MEXT Minister Takeo Kawamura (center), accompanied by RIKEN Director Ryoji Noyori (left) and CDB Director Masatoshi Takeichi (right)

Mr Kawamura was greeted by RIKEN President Ryoji Noyori and CDB Director Masatoshi Takeichi, who explained the Center's mission of conducting research into the biological mechanisms of development and regeneration, and of helping to provide scientific bases for regenerative medicine.
The introduction was followed by a brief discussion of the implications of the recent reorganization of RIKEN as an independent administrative institution, or IAI (dokuritsu gyousei houjin). In October 2003, RIKEN and many Japanese public corporations (tokushuu houjin) were redesignated as IAIs, a move intended simultaneously to increase both autonomy and accountability.
Mr Kawamura is the second MEXT Minister to have visited the CDB; in July of 2003, the previous Minister, Atsuko Toyama, attended the Opening Ceremony held on the Center's first official day in operation.