December 14, 2004 – Masatoshi Takeichi, director of the RIKEN Center for Developmental Biology (Kobe, Japan) and head of the Laboratory for Cell Adhesion and Tissue Patterning was recognized for his fundamental contributions to the study of cell biology and the advancement of education by a pair of prestigious awards this fall.

On November 3, Dr. Takeichi was named a "Person of Cultural Merit" (bunka kourousha), one of Japan's highest honors, in recognition of his discovery of the cadherin family of cell adhesion molecules, and subsequent work in characterizing cadherin structure and function. The Japanese government bestows this distinction on citizens who have made important lifelong contributions in scientific, academic and artistic fields. Physicist and former RIKEN president Akito Arima also received a 2004 Person of Cultural Merit for his distinguished scientific and administrative career.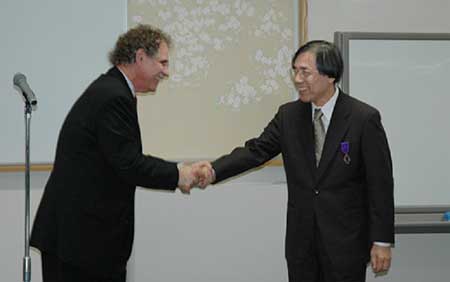 Michel Israël welcomes Masatoshi Takeichi
into the Order of the Palmes Academiques
This autumn, the French Ministry of Education also acknowledged Dr Takeichi's work as a biologist and educator, inducting him as an Officier in the Order of the Palmes Academiques, the oldest French civic honor awarded in France. Dr. Michel Israël, science councilor of the French Embassy in Tokyo, visited the CDB on November 15 to officially bestow the purple ribbon that marks Palmes Academiques honorees.