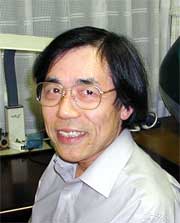 Masatoshi Takeichi, newly elected ISDB President
September 12, 2005 – Masatoshi Takeichi, Director of the RIKEN Center for Developmental Biology (Kobe, Japan) was elected to be the new president of the International Society of Developmental Biologists (ISDB) at the organization's 15th Congress held in Sydney, Australia earlier this month. Dr Takeichi, who also leads the Laboratory for Cell Adhesion and Tissue Patterning, will begin his four-year term as ISDB President in 2006, taking over from current ISDB President, Dr. Edward De Robertis.

The ISDB is a non-profit scientific association established to promote the study of developmental biology. The Society organizes regular international workshops and meetings and serves as an umbrella organization for many national and regional developmental biology societies and networks, including the Japanese Society of Developmental Biology and the Asia-Pacific Developmental Biology Network.