Glowing coverage


April 5, 2006 – The recent publication of one the standard textbooks for students and researchers involved in the field of animal development, Scott Gilbert's Developmental Biology, held special significance for one CDB researcher. The cover of the eighth edition of the textbook published in March 2006 features a series of images from movies of zebrafish development taken by Kohei Hatta of the Laboratory for Vertebrate Body Plan (Shinichi Aizawa; Group Director). The striking pictures depict zebrafish embryos at different embryonic stages pseudo-colored to distinguish the dorsal and ventral halves in striking yellow and blue. Hatta has recently worked out a live-imaging system for vertebrate morphogenesis and neural network formation using fluorescent proteins that can be photo-converted or reversibly highlighted.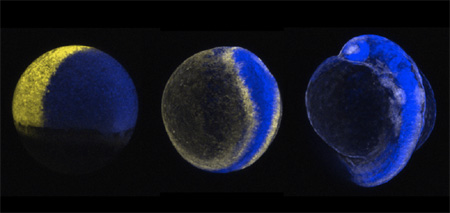 Images from series used on cover of Developmental Biology, 8th edition

The book's author, Scott Gilbert, decided to use the images after seeing Hatta's research first-hand during a presentation at the CDB annual retreat in 2004. Gilbert commented, "I wanted the cover to show both differentiation and morphogenesis. Dr. Hatta's movies showed morphogenesis in a particularly beautiful manner. So I was honored that he let us use some stills from his video series."More information regarding the textbook can be found at the publisher's website: http://www.sinauer.com/detail.php?id=2500.