CDB Director Masatoshi Takeichi elected to National Academy of Sciences


May 8, 2007– On May 1, the National Academy of Sciences (USA) announced the election of Masatoshi Takeichi (Director, RIKEN CDB) as a foreign associate member in recognition of his distinguished and continuing achievements in original research.The election inducted a total of 72 new members and 18 foreign associates from 12 countries into the NAS, bringing the total number of active members to 2,025 and the total number of foreign associates to 387.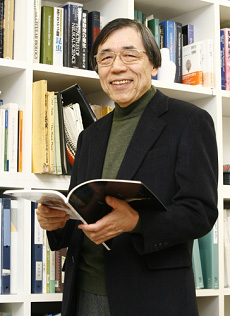 Takeichi was recognized for his significant contributions to science, which include the discovery of the cadherin superfamily of cell-cell adhesion molecules, and the functional characterization of cadherins in systems ranging from embryonic epithelium to the nervous system.

The National Academy of Sciences is a private organization chartered by the federal government to advise on scientific and technological matters. It undertakes studies generally at the request of government agencies and operates the National Academies Press publishing arm, which publishes the journal Proceedings of the National Academy of Sciences USA.