Carina Hanashima to head new lab at CDB


May 15, 2007– The CDB is pleased to announce that Carina Hanashima has been appointed to head the Laboratory for Neocortical Development, beginning in September 2007. The new laboratory will study the molecular mechanisms underlying the development of the neocortex.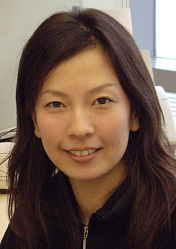 Carina Hanashima, Ph. D.

Dr. Hanashima's research interests lie in the developmental mechanisms of how diverse arrays of neurons are coordinated into high-functional territories.Despite its well-defined anatomical character and functional significance, the mechanisms underlying the precise assembly of distinct functional areas of the cerebral cortex remains largely unknown. The team will employ a wide range of techniques including genetic manipulations in mice that will enable the conditional loss of gene and cellular functions, recombination mediated cell-lineage tracing, and systematic approaches to identify novel molecules responsible for precise areal specification. Dr. Hanashima joins the CDB from the Developmental Genetics Program at the Skirball Institute, NYU School of Medicine (USA).