CDB Team Leader Wins Chronobiology Prize

October 26, 2007 – RIKEN CDB Team Leader Hiroki R. Ueda (Laboratory for Systems Biology) has been named winner of the 5th annual prize of the Japanese Society for Chronobiology, for his work on deciphering the mechanism underlying singularity behavior in the mammalian biological clock.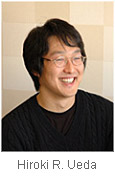 This prestigious award is given once per year to an outstanding young scientist showing great promise in the field of chronobiology. Ueda will present an acceptance address at the annual meeting of the Japanese Society of Sleep Research on November 7.