Summer program for grad school affiliates

July 23, 2008 – The RIKEN CDB hosted its fifth intensive lecture program for graduate school affiliates on July 17 and 18. The program drew more than 150 participants from the Center's affiliated graduate and medical schools. The two-day event featured scientific talks by CDB lab leaders, exhibitions of model organisms, and demonstrations of research tools and techniques.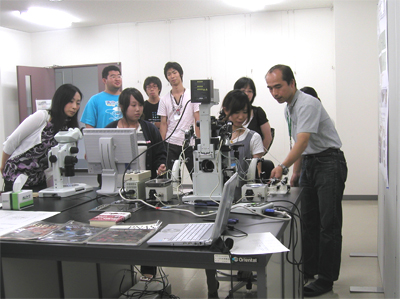 Teruhiko Wakayama giving a demonstration of micromanipulator technology
Attendance was not limited to students majoring in developmental biology, allowing students from unrelated disciplines to get a firsthand glimpse into some of the work being done at the CDB. In the model organisms exhibit, researchers with experience in the many developmental biology model systems, such as Drosophila, C. elegans and Xenopus, explained the various merits of their favorite species. The technical demonstrations provided students with a chance to learn firsthand about such research technologies as electron microscopy, mass spectrometry and micromanipulation.
The CDB's Graduate School Affiliates program was established to strengthen ties between the Center and grad and med schools in the region, including Kyoto University, Osaka University, Kobe University, Kwansei Gakuin University and the Nara Advanced Institute of Science and Technology. CDB labs host approximately 50 graduate students through this and other programs at any given time.