Back to school for high school teachers

October 6, 2008 – The CDB hosted a two-day educational program for area high school teachers on October 4 and 5, with support from the Japanese Society for Developmental Biology (JSDB), the Kobe Educational Council and the Japan Science and Technology Agency (JST).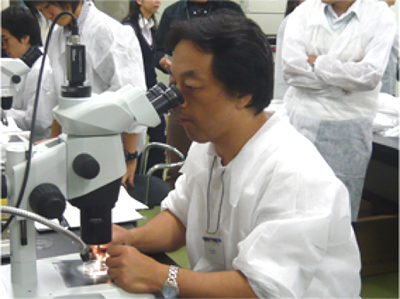 Scheme of complex circadian transcriptional network identified previously by Ueda lab
Thirty teachers of biology from the Kansai region of Japan joined the course, which featured hands-on experiments in Xenopus (African clawed frog), zebrafish and chick embryology, and lectures by Masaki Taira (Associate Professor, University of Tokyo) and Hitoshi Niwa (Team Leader of the CDB Laboratory for Pluripotent Cell Studies). The concept of developmental "organizers" (inductive signaling regions) was a prominent theme in the program, as groups of teachers-turned-students tried their hand at challenging organizer transplants in frog and chicken embryos. Experiments in zebrafish similarly involved the injection of molecular factors associated with the organizer in that organism.
The organizer transplant experiments pioneered by Hans Spemann and Hilde Mangold (later earning Spemann a Nobel Prize) are notorious for their technical difficulty, which the teachers soon experienced firsthand. "I had no idea just how challenging the experiments we read about in our textbooks were to do," admitted one participant, "It gives you a new appreciation for the science."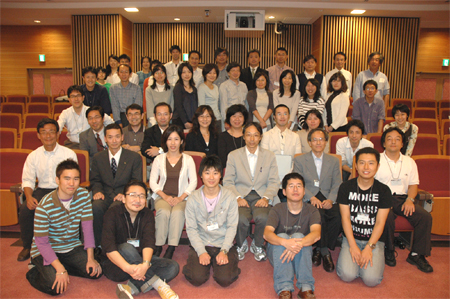 Participants and staff in 2008 HS teachers' course