CDB hosts stem cell culture workshop

December 15, 2008 – On November 27 and 28, The RIKEN CDB hosted a "Beginner's course in human pluripotent cell culture" in collaboration with the Kyoto University Center for iPS Research and Application and the RIKEN BioResource Center. Sixteen applicants from academia and industry were selected to join the 2-day program, in which they gained hands-on experience with fundamental techniques in the culture of pluripotent stem cells. This program series, which is conducted in Japanese, was established by the CDB Division of Human Stem Cell Technology as a means of contributing to the development of human stem cell research in Japan.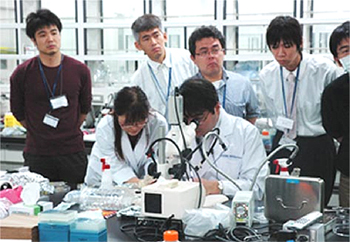 On the first day, participants studied methods for passaging, freezing and thawing colonies of human induced pluripotent stem (iPS) cells, as well as techniques for maintaining mouse embryonic fibroblasts, which are commonly used as feeder cells in stem cell culture. On day two, the focus turned to alkali phosphatase staining, and teratoma assays, used as the gold-standard test for pluripotency.
This training program is funded under the auspices of the Japanese Ministry of Education, Culture, Sports, Science and Technology (MEXT) Project to Realize the Potential of Regenerative Medicine. Completion of the course can be used to demonstrate experience with pluripotent cell culture, a requirement for those who wish to work with human embryonic stem (hES) cells in Japan. The next course will be held on February 19 and 20. Additional details are available at http://www.cdb.riken.jp/hsct (Japanese language site).