Practical course on human pluripotent stem cells

February 25, 2009 – The CDB conducted the latest of its series of beginners' workshops on the use of human stem cells in collaboration with the Kyoto University Center for iPS Research and Application and the RIKEN Bioresource Center. The two-day program held on February 19 and 20 featured instruction for 16 participants from academia and industry in the basics of human pluripotent stem cell research.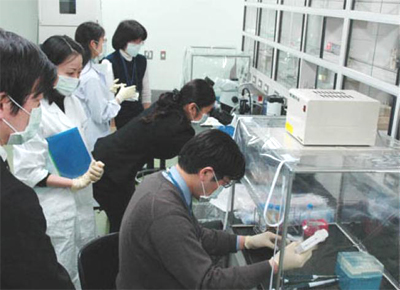 Hands-on learning at the bench
Using human induced pluripotent stem (iPS) cells, which share many of the properties of human embryonic stem cells, which are more strictly regulated in Japan, the participants studied methods of cell culture and cryopreservation, preparation of feeder cells, and alkaline phosphatase staining, which is used in monitoring undifferentiated cells. By completing the course, the participants fulfill one of the requirements established by the Ministry of Education, Culture, Sports, Science and Technology (MEXT) for scientists who wish to work with human ES cells.
The next training course will be offered (in Japanese) on April 16 and 17. At present, the course is only open to researchers working in Japan.