CDB Symposium "Shape and Polarity"

March 26, 2009 – The CDB hosted its seventh annual symposium on March 23 to 25, bringing together more than 180 scientists from 15 countries to discuss recent advances in the study of the biological phenomena of "Shape and Polarity." The CDB symposium series, which was launched in 2003, was established as a forum for addressing diverse aspects of developmental biology and the mechanisms of regeneration and aims to promote the free, timely and borderless exchange of research achievements. This year's event was co-organized by the CDB's Hitoshi Sawa, Fumio Matsuzaki, and Masatoshi Takeichi, along with Carl-Philipp Heisenberg of the Max Planck Institute of Cell Biology and Genetics (Germany).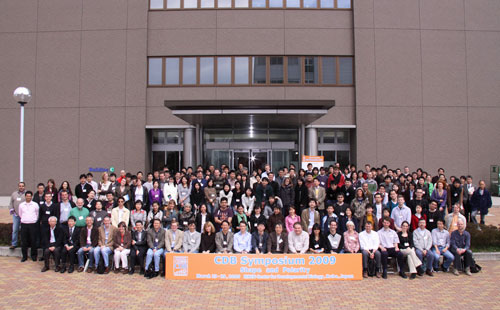 The three-day program featured a broad spectrum of talks addressing issues of polarization, asymmetry and morphogenesis at the molecular, cellular and tissue levels. In addition to the more than 30 talks, each day included a poster session in which nearly 90 presenters discussed their work. For more information and photos, visit the 2009 CDB Symposium website at: http://www.cdb.riken.jp/sympo2009/.
The 2010 CDB Symposium on "Frontiers in Organogenesis" will be held from March 23-25, 2010.