Prime Minister Hatoyama visits CDB

January 17, 2010 – Japan's Prime Minister, Yukio Hatoyama, visited the RIKEN Center for Developmental Biology on January 17 during a visit to Kobe's biomedical research park. Center Director Masatoshi Takeichi (Laboratory for Cellular Adhesion and Tissue Patterning), began the day by introducing the CDB's research mission and activities, after which Group Director Yoshiki Sasai (Laboratory for Organogenesis and Neurogenesis), and Team Leader Masayo Takahashi (Laboratory for Retinal Regeneration) guided Dr. Hatoyama on a laboratory tour and explained their work with embryonic and induced pluripotent stem cells, as well as fundamental developmental and regenerative phenomena.
The Prime Minister expressed a strong interest not only in the medical potential of the fields of development and regeneration, but in the exciting possibilities of technologies such as those that led to the cloning of a dead mouse by a CDB lab in 2008 (http://www.cdb.riken.go.jp/en/04_news/articles/081104_frozen.html).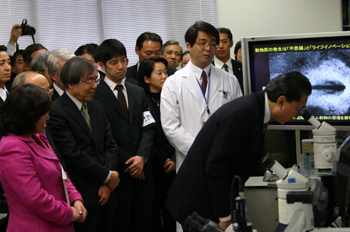 Prime Minister Hatoyama viewing a chicken embryo