CDB Team Leaders to receive MEXT Prize

April 5, 2010– The Ministry of Education, Culture, Sports, Science and Technology (MEXT) announced the recipients of this year's Commendations for Science and Technology by the Minister of MEXT on April 5. Two team leaders at RIKEN CDB, Teruhiko Wakayama (Laboratory for Genomic Reprogramming) and Jun-ichi Nakayama (Laboratory for Chromatin Dynamics), have been selected to receive this honor.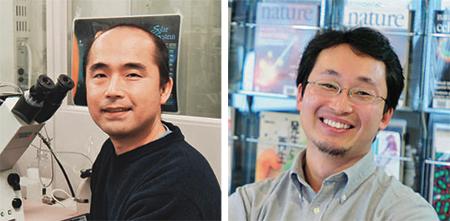 Teruhiko Wakayama (left) and Jun-ichi Nakayama (right) recognized for their achievements
Wakayama will receive the Prize for Science and Technology for Research. He was a member of the first team to clone a mouse in 1997, and has since continued to develop cloning technology and research the mechanisms of genomic reprogramming. His lab recently gained attention when it reported that it had generated a clone of a donor mouse that had been dead and frozen for 16 years. He is being recognized for his research on practical applications for animal cloning technology.
Nakayama will be awarded the Young Scientist's Prize for his research on how dynamic structural changes to chromatin regulate gene expression. Together with certain proteins, DNA forms structural complexes called chromatin, a tightly packed form of which, called heterochromatin, is known to repress gene expression. This mechanism plays an important role in cell differentiation and development by helping to regulate gene expression.
The award ceremony will be held in Tokyo on April 13.