Lectures in development for high school science teachers

October 4, 2010 – The RIKEN Center for Developmental Biology held its third recurrent course in developmental biology for teachers of high school biology on October 2 and 3. Held in conjunction with the Japanese Society of Developmental Biologists every year in the fall, the course is intended to give teachers an opportunity to learn hands-on techniques in embryology.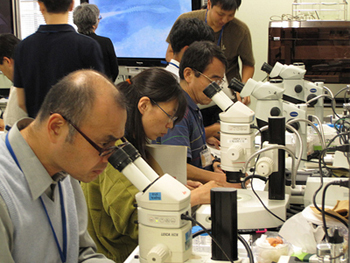 This year's program, which focused on chicken development, featured a lecture by Prof. Sadao Yasugi of Kyoto Sangyo University on the history of embryology studies in chicken, and an overview of the current state of the science in areas such as body axis formation and organogenesis. Folowing the talk, Yasuo Ishii, a lecturer at the same university, led a a two-day training course in which teachers learned how to extract, culture, and observe chick embryos, and to prepare them for microscopic examination. This was complemented by a demonstration of similar techniques in the Japanese quail by Yoshina Usui, a teacher at Higashi Suma High School.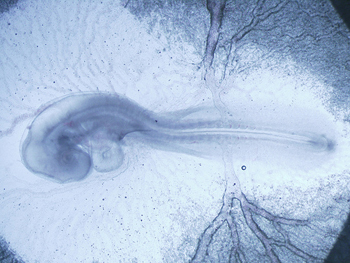 All aspects of the training course were designed to enable teachers to apply the subject matter and techniques in their own classrooms. One teacher commented, "I think that being able to show things like closure of the neural tube or the beating of the newly-formed heart in live embryos to students will be an effective way to capture their interest."