HRH Princess Sirindhorn of Thailand visits RIKEN CDB

October 12, 2010 – Her Royal Highness, Princess Maha Chakri Sirindhorn of Thailand paid a visit to the CDB on October 11 during a royal visit to the city of Kobe. After a brief introduction to the Center's history, research mission, and organization, Her Royal Highness listened to presentations of the work being done in the Laboratory for Retinal Regeneration (Masayo Takahashi, Team Leader), which currently hosts a Prince Mahidol Award Youth Program scholar, Juthaporn Assawachananont.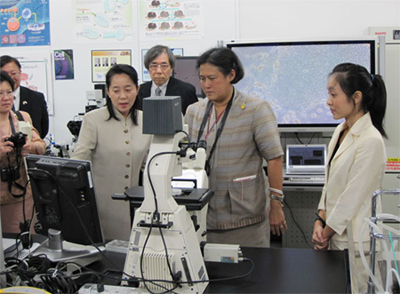 Her Royal Highness visits with CDB scientists
Princess Sirindhorn next visited CDB Center Director Masatoshi Takeichi and heard about his work on the cadherin family of cell-cell adhesion molecules. Her strong scientific interest was evident throughout the visit, as she asked many questions of the researchers and took extensive notes.