Developmental biology over summer break

Aug 4, 2011 –The RIKEN Center for Developmental Biology held its annual summer school for local high school students on August 2 and 4. The one-day courses featured lectures, lab visits, and hands-on experiments on fluorescent labeling.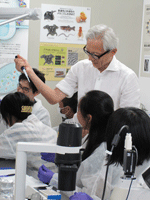 Shigenobu Yonemura demonstrates pipetting
CDB Unit Leader Shigenobu Yonemura (Electron Microscope Laboratory) opened the day with a lecture on how cells respond to tissue damage, and his work on studying the mechanisms of wound healing in vitro. The lab demonstration began with a demonstration of how to use a micropipette, followed by the generation of fluorescent staining solutions, which the class used to label tubulin red, and DNA blue. Once the cells had been stained, the students watched their creations under a fluorescence microscope, enabling them to observe phenomena such as cell divisions with surprising clarity.