Course in development for local HS teachers

October 3, 2011 –The recurrent course in developmental biology for teachers of high school biology, organized by the Office for Research Communications (ORC), was held at the CDB on October 1 and 2, 2011. This course is held annually in the fall in conjunction with the Japanese Society of Developmental Biologists, and gives the teachers an opportunity to learn hands-on techniques in embryology.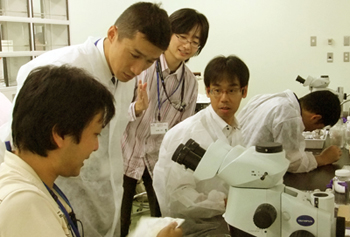 click here if you're not able to view the clip
The morning program featured a lecture by Prof. Sadao Yasugi of Kyoto Sangyo University on the history of embryology studies in chicken and on the molecular biological mechanism of cell differentiation. After the lecture, Yasuo Ishii, a lecturer at the same university, led a two-day training course in which the teachers learned how to extract, culture, and observe chick embryos under the microscope. One former participant, Yoshina Usui, demonstrated how to adapt the techniques learned in this course for a classroom setting and also an additional experiment that can be done using the chick embryo, such as looking at the effects of acetylcholine and norepinephrine on cardiac rates.
The teachers also carried out staining experiments using 7-8 day-old chick embryos to observe the process of apoptosis, which is indispensable for forming the hindlimbs. In addition, they each made and took home their own transparent specimens, which were stained to observe the skeletal system.
This program is now in its fourth year, and the participating biology teachers are mostly from in and around the Kansai area. This year a total of 24 teachers took part in the course.