Minister of MEXT visits RIKEN CDB

December 11, 2011 ĖMasaharu Nakagawa, Japanís Minister of Education, Sports, Culture, Science and Technology (MEXT) paid a visit to the RIKEN Center for Developmental Biology on December 10 to hear about research at a number of CDB labs. He was greeted by Center Director Masatoshi Takeichi, who gave a brief overview of the research mission, followed by a discussion of developments in Japanís science and technology policy.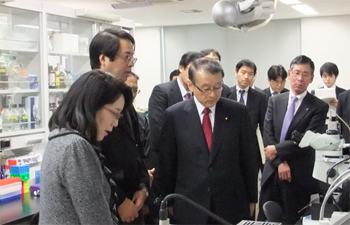 CDB lab heads Masayo Takahashi and Yoshiki Sasai speak with MEXT Minister Masaharu Nakagawa
He next visited with Yoshiki Sasai (Group Director, Laboratory for Organogenesis and Neurogenesis) and Masayo Takahashi (Team Leader, Laboratory for Retinal Regeneration), who explained their work with pluripotent cells, such as embryonic stem cells (ESCs) and future prospects for clinical application, and showed samples of actual induced pluripotent stem cells (iPSCs) used in their labs.