New research leaders join the CDB

April 2, 2012 –The RIKEN CDB has added three new leaders to its research programs in the first three months of the year. This latest generation of investigators will contribute to the Center's goal of achieving a better understanding of the biological mechanisms that underlie embryonic development and regeneration at levels from the molecular to the organismal.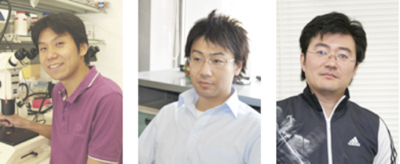 (from left) Drs. Kitajima, Morishita, and Kuraku
In January, Yoshihiro Morishita was named Unit Leader of the Laboratory for Developmental Morphogeometry. His work will use theoretical and experimental approaches to the study of complex multi-scale phenomena, and the measurement of their dynamic and coordinated interactions.
Tomoya Kitajima was appointed Team Leader of the Laboratory for Chromosomal Segregation in February, and will focus his studies on chromosome dynamics and the molecular machinery that underlies chromosome segregation during cell division.
In March, Shigehiro Kuraku, returned to the CDB as head of the Genome Resource and Analysis Unit, and plans both to lead original research projects and provide support services in gene sequencing, annotation, expression profiling and the distribution of existing clone resources.