RIKEN Science Seminar bridges fashion and development

July 26, 2012 –RIKEN held its latest Science Seminar public event on July 13 in Kobe, marking the sixth such event in this series of public dialogues between leaders from in fields such as design, calligraphy and screenwriting and RIKEN scientists. The recent event featured a lively discussion on the topic of "Change and Form" between Dai Fujiwara, a leading fashion designer who has served as creative director at Issey Miyake, and Shigeo Hayashi, Group Director of the Laboratory for Morphogenetic Signaling .
The one-hour conversation looked at how changes in form develop over time from embryological and design perspectives. Fujiwara and Hayashi also touched on how such changes respond and adapt to environmental selection in both contexts, and fielded questions from the floor following their talk.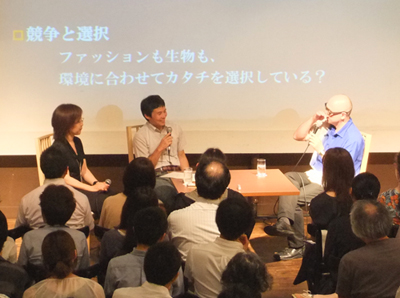 Shigeo Hayashi (center) and Dai Fujiwara (right)