High school students study blood development at CDB summer school

Aug 15, 2012 –Every summer season the CDB holds courses for local high school students to get a feel for the research done at the Center, and this year was no exception, with two one-day programs on August 7 and 9. This year's theme was blood and blood proteins, developed in cooperation with the Laboratory for Early Embryogenesis (Guojun Sheng, Team Leader), and included lectures by scientists and a tour of the lab. The talks focused on basic facts about blood biology, and the development of the blood system in chick, as well as an introduction to the lab's work on globin switching, and how defects in this routine are linked to disease.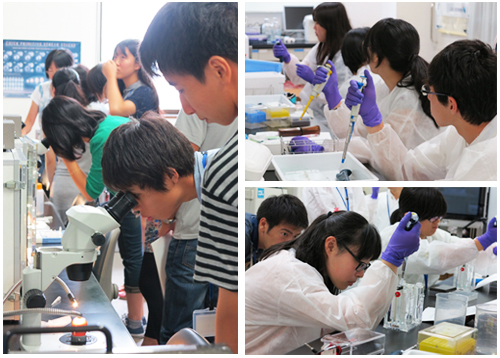 Students observe chick embryos, learn micropipette technique, and put their skills to use
In the afternoon, students participated in experiments using a technology known as SDS-PAGE electrophoresis, which is used for separating specific proteins from mixed samples. In the experiments, students harvested blood samples from early chick embryos and separated out various protein components, estimating their molecular weights from their mobility through a gel.