New labs join the CDB

Oct 11, 2012 –The RIKEN CDB welcomed three new laboratory heads in recent months, further strengthening its team of talented scientists in the fields of development and organogenesis, regenerative biology, stem cells, and regenerative medicine.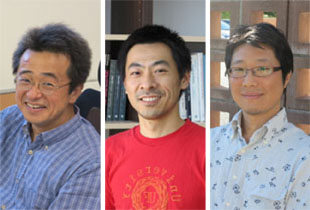 (from left) Yasuhide Furuta, Hironobu Fujiwara, Mitsuru Morimoto
In September, Yasuhide Furuta was appointed head of the Laboratory for Animal Resources and Genetic Engineering, which provides service in the generation and care of experimental mouse resources at the Center.
Two new research leaders opened labs on October 1st. Hironobu Fujiwara was named Team Leader of the Laboratory for Tissue Microenvironment, which will focus on the regional specialization and functional roles of cellular niches, or microenvironments. Mitsuru Morimoto will serve as Team Leader of the Laboratory for Lung Development, and will how study tissue morphology influences the formation of stem cell niches in, and the development and regeneration of, respiratory organs.