Lessons in development for local HS teachers

Oct 10, 2012 –The CDB's annual course in developmental biology for high school teachers was held on October 6 – 7, with over 20 biology instructors in attendance. The course, organized by Professor Sadao Yasugi of Kyoto Sangyo University, began with a seminar on the morning of the first day by Hitoshi Niwa, Project Leader of the Laboratory for Pluripotent Stem Cell Studies, on how transcription factors establish cell identity, using examples from embryonic stem cell biology to illustrate the regulation of gene expression in cellular differentiation.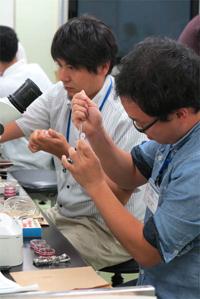 That afternoon and the following morning, Assistant Professor Yasuo Ishii, also of Kyoto Sangyo, taught a workshop on the culture and observation of chick embryos in which participants were able to watch the formation of organ systems in the early embryo. They also learned methods for visualizing apoptosis, the process of programmed cell death. Yoshina Usui, a teacher at Suma Higashi High School also demonstrated classroom techniques for the culture and observation of quail embryos.
"I was very happy to learn such useful technqiues for in-class use," said one participant. "We also learned quite a bit that we can actually include in our lessons, so I am looking forward to sharing these with my own students."