RIKEN Kobe Institute holds Open House

Oct 21, 2012 –The RIKEN Kobe Institute held its annual Open House on October 20, welcoming more than 1,500 visitors to learn more about the research being done at its research centers, including the Center for Developmental Biology. The RIKEN K Supercomputer held its own Open House event on the same day, drawing thousands more science-hungry visitors to Port Island.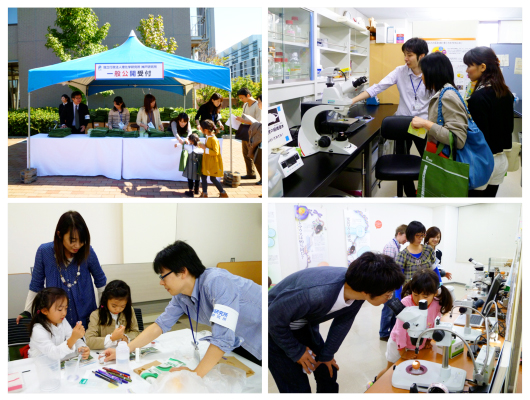 This year's event featured a range of exhibits and activities for people of all ages, including tours of the laboratories for Sensory Development, Histogenetic Dynamics, Systems Biology, Functional Genomics, Electron Microscopy and Optical Imaging Analysis. Another popular section was the Model Organisms exhibit, where visitors could watch and learn more about a number of animal species studied in CDB labs, including fruit fly, flatworm, roundworm, zebrafish, African clawed frog, and soft-shelled turtle. The Kobe Science Museum also contributed by organizing a science crafts workshop, and in a separate corner people learned how to take and observe a sample of their own cells.