CDB holds workshop in development for local high school students

Dec 27, 2012 –The RIKEN CDB held a two-day workshop for local high school students on concepts and techniques in developmental biology on Dec 25 – 26, with support from Suma Higashi High School, Hyogo University, and the JST Science Partnership Project (SPP). The program, which was held in the CDB facilities, included lectures by research scientists, a tour of the Center, and training in experimental methods.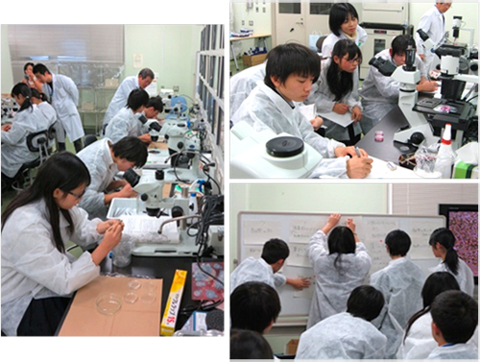 Students learning dissection techniques, observing cultured cells, and discussing their results
The theme of this year's course was "Embryonic Development and Cell Differentiation." Students learned basic dissection technqiues and compared quail embryos at different stages of development. They next made primary cultures using cells from various tissues, and on the following day observed changes in the behavior and properties of skeletal muscle, neural, and fibroblast cells in vitro. They also used an apoptosis assay to study how programed cell death plays an important role in limb development and digitation.
On day 2, Tomoyuki Tsukiyama of the Lab for Pluripotent Stem Cell Studies (Hitoshi Niwa, Project Leader) gave a talk on pluripotent cells and differentiation, introducing the meaning of pluripotency, and how this state is maintained. Following their experimental work, the students discussed cell differentiation and how it is regulated. At the conclusion of the workshop, many expressed excitement about the opportunity to get hands-on experience with biological samples and techniques they would otherwise only read about in textbooks.