Prime Minister Shinzo Abe visits RIKEN CDB

Jan 18, 2013 –The RIKEN Center for Developmental Biology was honored to host a visit by Mr. Shinzo Abe, the Prime Minister of Japan, on January 11. CDB Director Masatoshi Takeichi first introduced the Center's research activities, and outlined how many developments in regenerative medicine and applied research are based on fundamental discoveries in the field of developmental biology. Nobel Prize Laureate Shinya Yamanaka of the Center for iPS Cell Research and Application (CiRA), Kyoto University next provided an introduction to his institute and explained how induced pluripotent stem cells (iPSCs) may find applications in drug screening and discovery.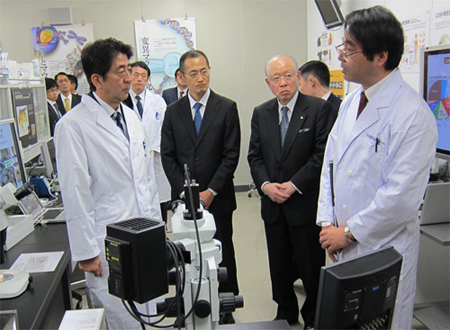 From left: Prime Minister Abe, Prof. Shinya Yamanaka (Kyoto Univ., CiRA),
RIKEN President Ryoji Noyori, CDB Group Director Yoshiki Sasai
Mr Abe next heard from CDB Group Director Yoshiki Sasai about his work in inducing self-organized tissue formation from embryonic stem cells (ESCs) in culture, and from Project Leader Masayo Takahashi about her proposal to use iPSC-derived retinal pigment epithelium cells in a pilot study. Prime Minister Abe inquired about the international state of development of regenerative medicine with the scientists, and following a group discussion led by RIKEN President Ryoji Noyori, pledged to support regenerative medicine R&D even more strongly in Japan and encouraged the group, saying that Japan and the world are looking forward to their new discoveries in areas of health and medicine.