CDB welcomes two new laboratories

Apr 4, 2013 –The RIKEN CDB is delighted to welcome two new research programs to the Center this spring.
In March, Haruko Obokata joined the CDB as head of the Lab for Cellular Reprogramming, which will examine how cells can be induced to exhibit plasticity in response to external stimuli.
In April, Miki Ebisuya launched the Lab for Reconstitutive Developmental Biology, which will investigate methods for reconstituting developmental phenomena, such as cell-cell communications, in vitro.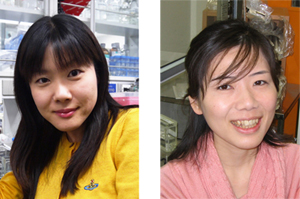 Haruko Obokata and Miki Ebisuya