2008 CDB Symposium: "Turning Neurons into a Nervous System"


May 1, 2008– The RIKEN Center for Developmental Biology held its sixth annual symposium on the theme "Turning Neurons into a Nervous System," from March 24 to 26. The annual symposium series, which was launched in 2002, was established as a forum for addressing diverse aspects of developmental biology and the mechanisms of regeneration and aims to promote the free, timely and borderless exchange of research achievements. This year's event was co-organized by the CDB's Hideki Enomoto, Raj Ladher, and Masatoshi Takeichi, along with Joshua Sanes of Harvard University (USA).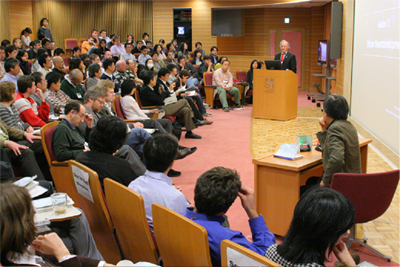 Mario Capecchi speaking at the CDB Symposium
The three-day program featured a broad spectrum of talks ranging from the genetic and molecular activities that guide the morphological and migratory behaviors of individual neurons, to the complex networks that allow huge numbers of neurons to work together in a coordinated fashion to achieve higher brain functions. In addition to the nearly 30 invited talks, each day included a poster session in which more than 80 presenters discussed their work. For more information and photos, visit the 2008 CDB Symposium website at: http://www.cdb.riken.jp/sympo2008/.

The 2009 CDB Symposium on "Shape and Polarity" will be held from March 23-25, 2009. Check the CDB website periodically for updates.