■Group Photos
■Venue
The meeting will convene in the CDB Auditorium, located on the 1st floor of Building C.

RIKEN Center for Developmental Biology (CDB)
2-2-3, Minatojima minami-machi, Chuo-ku, Kobe 650-0047, Japan

Please refer to the "ACCESS" link on this website for a guide to the locations.
■Internet
A number of Internet-access modular jacks, cables and PCs are available for use by meeting participants in the Salon opposite the Auditorium. Wireless internet connections are also available.
■Lockers
Lockers and luggage rooms are available at the venue.
■Reception
A dinner reception will be held after the program on Thursday, June 13 (1st day) at the CDB Salon.
■Lunch
Lunch box will be provided for June 14's lunch. Please make sure to inform us of any dietary requirements when you make your online applications.
■For Oral Presenters
Speakers can use their own personal computers when making presentations. Please bring any peripherals or adaptors needed to connect your computer to the projector. Speakers are requested to check the connection in the operator room located on left side of the auditorium during break time (coffee break or lunch break). Please bring backup data in the form of a CD-R or USB flash drive.

Presenter view function of PowerPoint cannot be used when presenting.
■For Poster Presenters
The panel size of the poster is 180 cm (height) X 90 cm (width). The poster number (to be notified later) will be prepared by the meeting office; you will need to prepare the title for the panel. (See the figure below)
Details of session times will be available in May, 2013.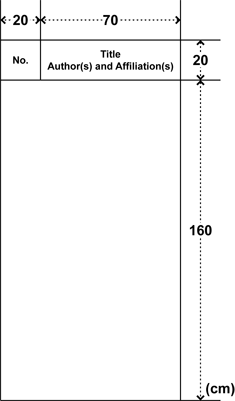 ■Daycare nursery
Attendees needing to use the daycare should contact the meeting office.
■General Information
Information about climate, money, healthcare, etc. is available from here.
■Visa
Depending on the country where your travel will originate, a visa may be required to enter Japan. Visa rules can be complex and can change on short notice. You can find further information regarding Visa's by visiting the Ministry of Foreign Affairs of Japan at [http://www.mofa.go.jp/j_info/visit/visa/index.html].

Attendees requiring an entry visa should inquire at their local Japanese embassy or consulate regarding the required visa and documents.

Please contact the meeting staff for any documents required for your visa application as soon as possible. We advise you to apply for your visa well in advance as visa application may take some time depending on such factors as the situation in the embassy or consulate concerned and the content of an application.