From Sannomiya
※The following travel times do not include times required for changing trains.
To Sannomiya
Shinkansen (Shin Kobe Station)

Shin Kobe › Sannomiya (Kobe Metro Subway) : 2min (210yen)

JR lines

Sannomiya Station (JR, Hankyu, Hanshin Lines)

Airport Limousine bus from local airports

Itami Airport › Sannomiya:40min (1,050yen) / Kansai International Airport › Sannomiya:65–75min (1,950yen)
From Sannomiya to the CDB
By Portliner monorail

Sannomiya Station › Iryo Center Station:12min (250yen)
Please take the train for Kobe Airport, not Kita Futo or Naka Futo.
The CDB is located to the left (west) as you exit the gate at Iryo Center Station. Go down the stairs and turn right at the first street. Follow to the first corner and turn right to enter the CDB campus (3min).

By taxi

From Shin Kobe Station › CDB:25min (2,500yen)
From Sannomiya → CDB:20min (2,200yen)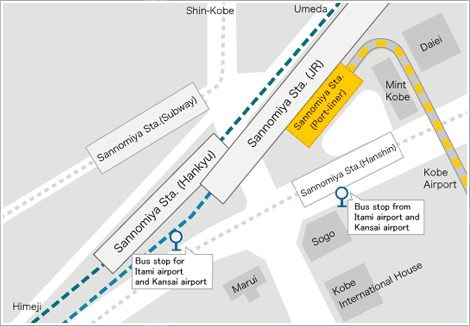 Area map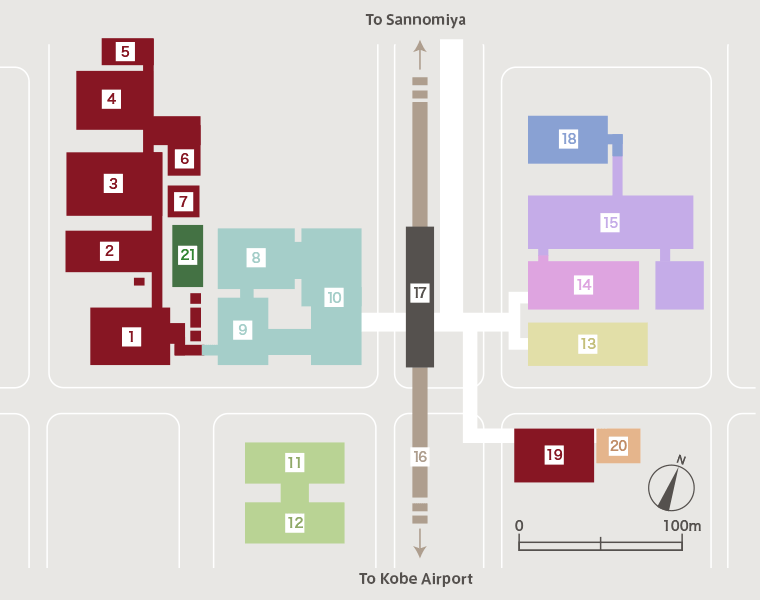 1
RIKEN CDB Bldg. A
11
Kobe International Business Center (North)
2
RIKEN CDB Bldg. B
12
Kobe International Business Center (South)
3
RIKEN CDB Animal Facility
13
KIMEC Center
4
RIKEN CDB Bldg. C
14
Translational Research Informatics Center
5
RIKEN CDB Aquarium
15
Business Support Center for Biomedical Research and Innovation
6
RIKEN CDB Bldg. D
16
Portliner
7
Energy center
17
Iryo Center Sta.
8
IBRI medical imaging bldg.
18
Kobe University Business Incubation Center
Kobe Biotechnology Research and Human Resource Development Center
9
IBRI lab bldg.
19
RIKEN Center for Molecular Imaging Science (KOBE MI R&D Center)
10
IBRI clinical bldg.
20
Kobe Healthcare Industry Development Center (HI-DEC)
21
Energy center (common)
Visitors to the CDB
All visitors to the CDB should sign in with the Security Office on the 1F of Building A,
before making their way to the destined laboratory or office.
(This includes visitors to laboratories or offices in Buildings B, C, and D).